Case study 3.11
Asset management for public entities: Learning from local government examples.
Auckland City Council – Risks are best managed when they are prioritised and actions are focused on the highest priorities
Auckland City Council has a structured approach to managing asset-related risks, with excellent risk management sections in all its plans. These sections give summary risk profiles that judge effect and likelihood. Risk policies, led by the Risk and Assurance Group are used to inform judgements of risk effect or consequence. The asset management plans prioritise risks and make links between levels of service, risk assessments, and planned works.
Auckland City Council uses a likelihood/consequence matrix to put risks in context and prioritise risk management action (numbers refer to individual risks recorded in the risk register)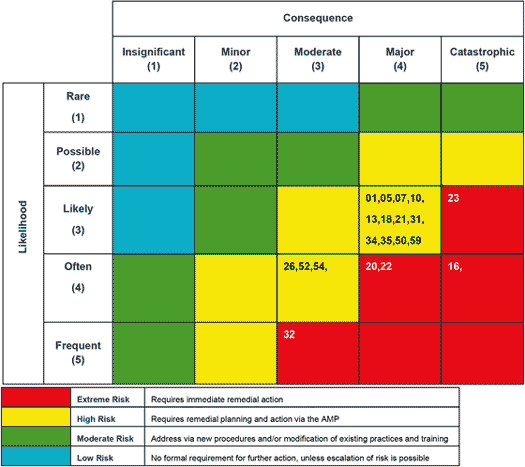 Auckland City Council sets out its highest risks in its asset management plans, ensuring that links are made between the risks, their consequences, and the work needed on the assets to manage them [abbreviated]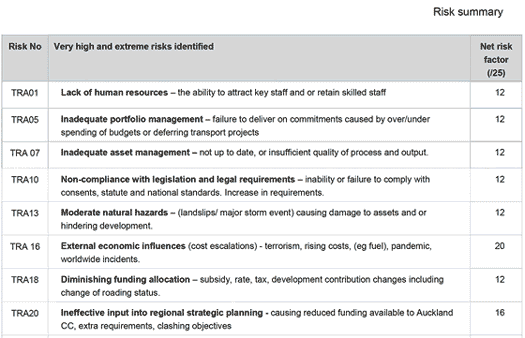 The Council sets out its critical assets in its planning. The significance of assets is apparent, and it is clear that this influences the approach to assessments of condition, maintenance plans, and financial forecasts.
Approach to asset survey by criticality group
| Criticality group | Total length (km) | Survey length (km) | % |
| --- | --- | --- | --- |
| A | 25.2 | 11.5 | 45.6% |
| B | 123.7 | 44.5 | 35.9% |
| C | 139.5 | 13.0 | 7.3% |
| Non-critical | 744.1 | 6.7 | 1% |
| Totals | 1032.5 | 75.5 | 7.33% |
Source: CleanFlow, supplied by Metrowater, July 2008
Auckland City Council sets out its highest risks in its asset management plans (AMPs), explicitly stating the mitigation that has been decided and the financial implications of that mitigation [abbreviated]