What good looks like: Portfolio, programme, and project management
This is part of our series on What good looks like, produced by our Specialist Audit and Assurance Services team.

Download PDF, 67KB, 2 pages
What is portfolio, programme, and project management (P3M)?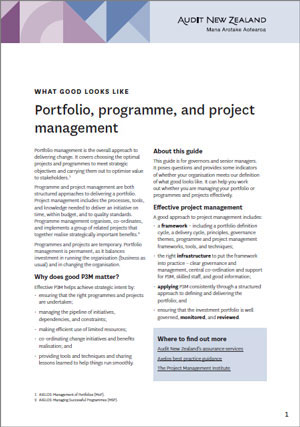 Portfolio management is the overall approach to delivering change. It covers choosing the optimal projects and programmes to meet strategic objectives and carrying them out to optimise value to stakeholders.1
Programme and project management are both structured approaches to delivering a portfolio. Project management includes the processes, tools, and knowledge needed to deliver an initiative on time, within budget, and to quality standards. Programme management organises, co-ordinates, and implements a group of related projects that together realise strategically important benefits.2
Programmes and projects are temporary. Portfolio management is permanent, as it balances investment in running the organisation (business as usual) and in changing the organisation.
Why does good P3M matter?
Effective P3M helps achieve strategic intent by:
ensuring that the right programmes and projects are undertaken;
managing the pipeline of initiatives, dependencies, and constraints;
making efficient use of limited resources;
co-ordinating change initiatives and benefits realisation; and
providing tools and techniques and sharing lessons learned to help things run smoothly.
About this guide
This guide is for governors and senior managers. It poses questions and provides some indicators of whether your organisation meets our definition of what good looks like. It can help you work out whether you are managing your portfolio or programmes and projects effectively.
Effective project management
A good approach to project management includes:
a framework – including a portfolio definition cycle, a delivery cycle, principles, governance themes, programme and project management frameworks, tools, and techniques;
the right infrastructure to put the framework into practice – clear governance and management, central co-ordination and support for P3M, skilled staff, and good information;
applying P3M consistently through a structured approach to defining and delivering the portfolio; and
ensuring that the investment portfolio is well governed, monitored, and reviewed.
Where to find out more
Audit New Zealand's assurance services
Axelos best practice guidance
The Project Management Institute
10 questions
Indicators of what good looks like
Framework
1. Do you have a clear organisational strategy?

Clear objectives allow the portfolio of projects to be understood, categorised, prioritised, balanced, and planned.
Long-term strategy allows a pipeline of projects and programmes to be considered.

2. Do you have the key elements of management control in place?

Defined processes, including the business change lifecycle documented in a portfolio management framework.
Guidance and templates, in particular for business cases and planning.
Progress reporting through a portfolio dashboard, formal stage or phase gates controlling progress, and regular portfolio level reviews.

Infrastructure
3. Do you have an Enterprise Project Management Office (EPMO) or similar to co-ordinate and support?

Support to corporate, programme, and project governance.
Support to prioritise, align, and adjust investment in line with strategy.
Responsible staff held to account for delivery.

4. Do you have a P3M system to track progress?

Centralised record of the portfolio, with progress tracked through highlight and exception-based reporting.
Support for business case development and benefits tracking.

Application
5. Do you have a portfolio definition cycle to prioritise your investment?

Strategic planning that understands current change initiatives.
Process to identify and prioritise investment based on risk, benefits, return on investment, payback period, or similar.
Portfolio balanced in terms of timing, coverage of strategic objectives, impact on the business, and overall risk and return profile.

6. Do you have a portfolio delivery cycle to ensure delivery?

P3M aligned with budgeting, financial management, and reporting cycles.
Consistent and effective approaches to risk management and stakeholder engagement.

7. Do you take a principles- based approach?

Alignment with corporate strategy, a vision of a better future clearly communicated, and a focus on benefits.
Capability to deliver that includes learning from experience.

8. Are you delivering transformational change?

Clear mandate for change.
Delivery managed in batches to ensure strategic direction is maintained and initiatives remain on track towards benefits.
Structured approach to benefits realisation.

Monitor and review
9. Do you monitor and review your approach and its effectiveness?

Targeted approach to Independent Quality Assurance (IQA).
P3M maturity assessed and improved if needed.

10. Is change well governed?

Governance of the portfolio reflects and is consistent with the organisation's structure and corporate governance.
Clear governance responsibility for investment and delivery, perhaps through specific committees.
---
1: AXELOS: Management of Portfolios (MoP).
2: AXELOS: Managing Successful Programmes (MSP).