Case study 2.1
Asset management for public entities: Learning from local government examples.
Hauraki District Council – Seeing asset management in the context of other plans, strategies, and policies means that they all come together to deliver the organisation's objectives.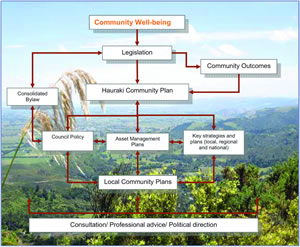 The Council has a policy on "Sustainability and Well-being", which was adopted in 2006. The policy supports asset management plans. The Council's view of sustainability is based on bringing together planning and delivery of services in a way that takes account of social, cultural, economic, and environmental well-being. It uses a "sustainability tuner" to visually represent the balance between these types of well-being. The Council uses a decision-making matrix to take responsibility (sometimes on its own, and sometimes in partnership) to tune or balance the "sustainability tuner" in such a way that all types of well-being are either maintained or enhanced by a proposal.
Hauraki District Council has a corporate policy framework to guide its development of asset management plans.
The Council's framework for asset management planning provides a structure to ensure that asset management plans are developed within the context of other strategic and operational plans and legislative requirements, including the District Plan and the Regional Transport Strategy. This is made possible by having a "corporate team" approach to planning.